TRENDBIRD Quarterly Report (SiliconValley VC Funding Report) - Q1. 2015 Edition Released !
TRENDBIRD (What's the Next Big Thing ?). "Crowd-Sourced, Expert-Curated" is a Global Trend Research & Consulting Service that Instantly Delivers Industry Expert Information on Emerging Trends & Future Business Opportunities from Around the World, Ahead of The Curve.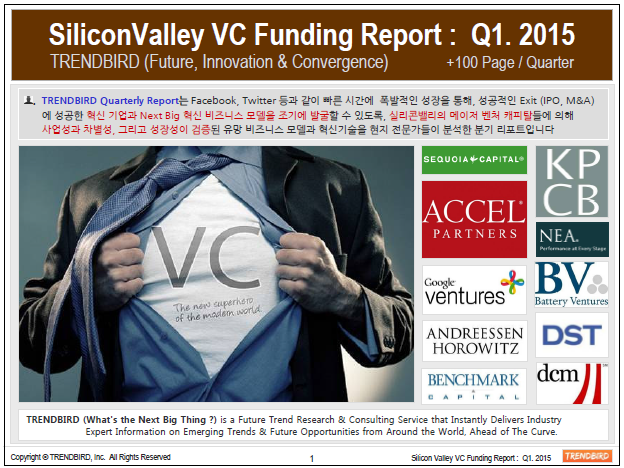 TRENDBIRD Quarterly Report는 Facebook, Twitter 등과 같이 빠른 시간에 폭발적인 성장을 통해, 성공적인 Exit (IPO, M&A)에 성공한 혁신 기업과 Next Big 혁신 비즈니스 모델을 조기에 발굴할 수 있도록, 실리콘밸리의 메이저 벤처 캐피탈 들에 의해 사업성과 차별성, 그리고 성장성이 검증된 유망 비즈니스 모델과 혁신기술을 현지 전문가들이 분석한 분기 리포트입니다.